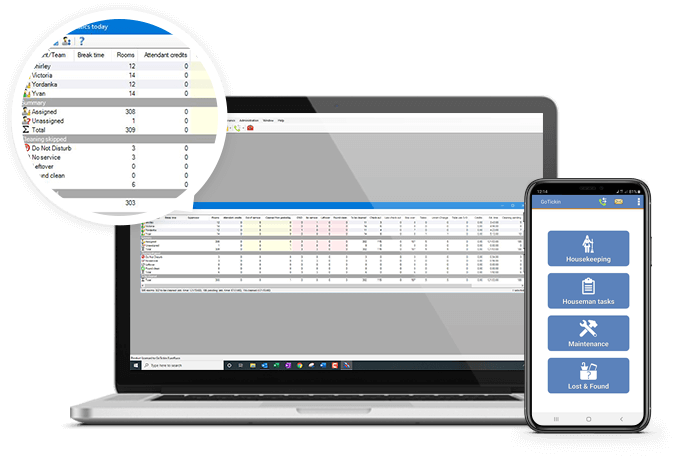 Maintenance has never been so easy to organize!
The GoTickin Maintenance module gives you all the right tools to fully manage your Maintenance department. With the overview on your PC or App, GoTickin gives you the power to maintenance tasks, get insight into room status and greatly enhance the communicating between departments. Are you still calling about every little issue and are you wasting valuable minutes on getting to find the issue?
Enhance your maintenance staff with all the users of GoTickin in your property and let all users add maintenance issues with 3 simple steps. A photo says more then a 1000 words and therefor this is of course possible!
With the GoTickin Application this can be done from every location in the hotel. Check the features and book your demo now!
Maintenance App and Windows system
Discover what the Maintenance module can get you and how your daily planning can be done in minutes and all without any paper waste.
Ready to try GoTickin?
We can give you a free remote demo
As GoTickin we do nothing more then help you out getting a higher employee and guest satisfaction. Therefor you are looking for an housekeeping app, Maintenance system, facility management software, lost and found system and a way to set up your multi property communication. Book your demo and GoTickin can help you out with all these features in one great hotel software solution.
Direct assignment
of a task
Great and easy
overview of tasks
Productivity of
tasks insight
Room status changes
can be managed