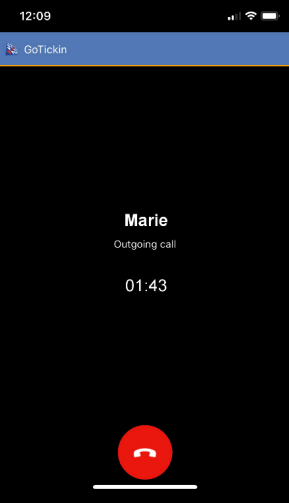 Information sharing has never been so easy!
The GoTickin VoIP calling module you choose the amount of users that can use VoIP calling and pay per user. This gives you the flexibility to include all users or just give your attendants and supervisors an extra tool to communicate.
As some information needs to be shared quick or guest request require direct action a phone call is still the best option for your operation. So why not combine this with a system al ready used be so many. No need to change number, names and departments through expensive phone service providers but just use the GoTickin application and be in charge of who can use the VoIP calling. You can even change this on a daily basis without any extra tools or assistance.
With the GoTickin Application this is done within minutes and safes you money and time. Book your demo now!
Ready to try GoTickin?
We can give you a free remote demo
As GoTickin we do nothing more then help you out getting a higher employee and guest satisfaction. Therefor you are looking for an housekeeping app, Maintenance system, facility management software, lost and found system and a way to set up your multi property communication. Book your demo and GoTickin can help you out with all these features in one great hotel software solution.
Manage users
of VoIP yourself
Get detailed logs
about VoIP calls made
Get communication
done quick
Have your
contact at hand
Use it how ever you
want to use it
GoTickin and Anantara Grand Hotel Krasnapolsky Anantara Grand Hotel Krasnapolsky uses the housekeeping module to make sure the demands of the guests are fulfilled every day. With over 450 hotel rooms, the housekeeping has a great challenge every day and with the help of GoTickin this job is made more easy. The possibility to change...
View case
GoTickin and Eden Hotel Amsterdam Eden Hotel Amsterdam is using the Housekeeping module, Maintenance module and the use of Service Areas. With these modules the hotel is able to manage their full facility department and make life easier for all. The combination with the outsources housekeeping department works better with insight into productivity, communication and...
View case
GoTickin and Grand Hotel Huis Ter Duin Grand Hotel Huis Ter Duin is a very well known hotel within the Dutch hotel market and used to house many national and international celebrity's, including one former president of the USA. With the help of GoTickin Grand Hotel Huis Ter Duin is able to assist all its...
View case
GoTickin and The Dylan The Dylan is one of the most prestigious hotels in the city of Amsterdam and offers 5 star service to its guests with the help of GoTickin. With the housekeeping module the housekeeping department is able to help and assist guests with all requests. To make sure the guests are surrounded...
View case